Compact Array and Mopra report
Noteworthy events
A transit of Mercury across the Sun's disk occurred last November and, as part of our outreach program, John Smith (visiting from Parkes) and Jo Houldsworth set up an optical telescope in town for viewing. The day started with almost complete cloud cover, but good viewing conditions were obtained as the morning wore on. Nigel Prestage, of the Ionospheric Prediction Service, kindly provided staff and observers on-site with a similar service.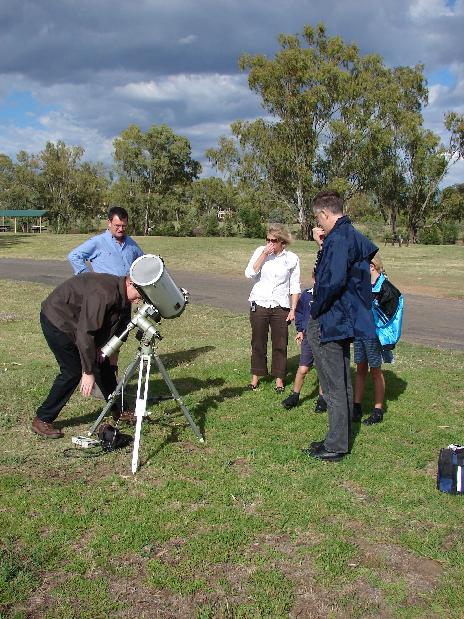 John Smith with Phil Edwards and members of the public at the transit of Mercury viewing in Narrabri; Photo: Michael Dahlem (click on image for larger version)
Cloud cover also prevented views of comet McNaught as it first became visible after sunset in January 2007. After several frustrating evenings, however, we were rewarded with stunning views of the comet. A photo taken by Dion Lewis, duty astronomer for the week, of the comet with antenna 5 in the foreground appears on the ABC website
/www.abc.net.au/science/scribblygum/yourphotos/summer07/sky/
.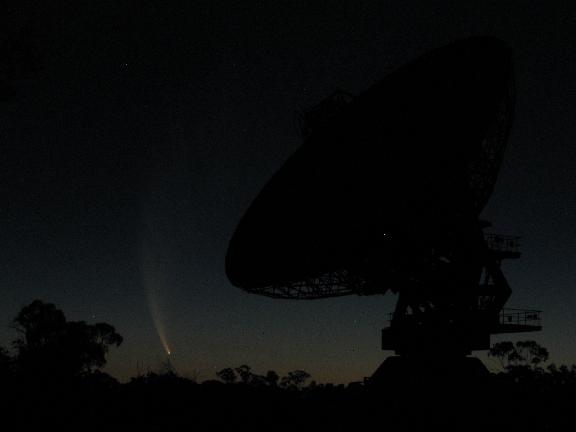 Comet McNaught with Compact Array antenna 5 in the foreground, on the night of 19 January 2007; Photo: Dion Lewis (click on image for larger version)
Narrabri systems and developments
Both the C1621 and C1624 observing teams encountered problems with radio frequency interference (RFI) over the Christmas/New Year period. The 20-cm band interference, at 1448.5 MHz, was determined to be coming from a transmitter on Mt Kaputar. This frequency is within the 1427 - 1535 MHz terrestrial microwave link band. The RFI at 13 cm was intermittent and took a little longer to track down, but two independent lines of enquiry determined that it arose from 2492-MHz transmissions from Globalstar satellites: a global web search found the most accessible spectral information about Globalstar was on Daniel Mitchell's ATNF web pages! At the same time, Tim Cornwell was using the program Starry Night Pro to confirm that the RFI was strongest when Globalstar satellites passed close to the Compact Array's field of view. Both sources of RFI are relatively narrow-band (for 128 MHz bandwidths) and so can be excised without a catastrophic loss in sensitivity.
Satellite transmissions were put to use for productive purposes in November, when the Optus B-2 30-GHz beacon used for the Compact Array seeing monitor was used for holographic measurements of the surface of antenna 6 (CA06). As reported in the last issue, the prototype 7-mm receiver was installed on CA06 during the split array period in August. The VLBI group kindly agreed to do without CA06 during November's VLBI week, enabling Mike Kesteven to lead several rounds of holographic measurements and panel and subreflector adjustments. As a result, the antenna surface accuracy improved from an rms of 0.32 mm to 0.20 mm.
A team from NASA's Jet Propulsion Laboratory and the Canberra Deep Space Communication Complex visited in January to install equipment in readiness for 32-GHz spacecraft tracking with the Compact Array. Tests at 3 cm and 13 cm of several satellites confirmed the array's capability to track and phase-up on a satellite signal.
Summer vacation program
As reported
elsewhere in this issue
, the Observatory hosted three students over the summer period. Dilini, James and Kate all made excellent progress on their respective projects and were welcome visitors over the summer period. One immediate outcome of the vacation program has been the return of Dilini to Narrabri under the Griffith University Industrial Affiliates Program (IAP).
Mopra developments
Mopra observing continued into December this year, with Erik Muller stepping into the breach to provide assistance to observers with all our other Mopra experts having left! Erik was back in January as part of a target-of-opportunity team attempting to detect spectral line emissions from Comet 2006 P1 (McNaught). Observing at 3 mm, close to the sun, in the middle of summer, is challenging enough, but Erik also was able to identify problems with the ephemeris tracking software, which were quickly fixed thanks to the efforts of Mike Kesteven and Mark Wieringa.
Remote Observing
During the October 2006 semester we have been trialling a relaxation of the requirements for Compact Array remote observing. It is still the case that remote observing will only be granted to astronomers who have observed with the Compact Array in person at Narrabri within the previous 12 months, however other restrictions on the amount of remote observing within any given time interval have been relaxed for the duration of this semester. This trial is now being assessed, and the outcome will be announced on the Compact Array web pages and in the next ATNF News.
Site infrastructure
Observers to the site will not fail to notice the changes to the observers area. The old upstairs computer room, which had defaulted to part library shelves and part storage area, has been opened up to create a more open and accessible area.
A heavy downpour in early December 2006 resulted in several ceiling panels in the lodge breezeway falling in. Whilst we welcome all the rainfall we can get, we would certainly prefer that it doesn't all fall in such a short space of time!
Elsewhere on site, a grant from the Namoi Catchment Management Authority is enabling the fencing off and revegetation of an area of the creek that runs between the 3-km east-west track and SUSI. This creek was diverted with the aid of some major earthworks during the construction of the Compact Array, and this project is helping to rehabilitate the affected area and restore it to its natural state.
Phil Edwards
Officer-in-Charge, Narrabri Observatory
(Philip.Edwards@csiro.au)