ATNF outreach
2006 Summer Vacation Program
The 2006 ATNF Summer Vacation Program commenced in early December and ended in mid-February 2007. Five of the six students came from across Australia — Adelaide, Townsville, Brisbane, and Sydney, and one from the UK (Manchester). Each student spent ten weeks working on a project under the supervision of ATNF staff. Three students, Dilini De Silva, James McGeachin and Kate Randall, were based at Narrabri while three, Sheila Kanani, Chris Lustri and Tony Whelan, were based at Marsfield. Projects included engineering and xNTD development, pulsar astrophysics and studying intra-day variability in radio sources.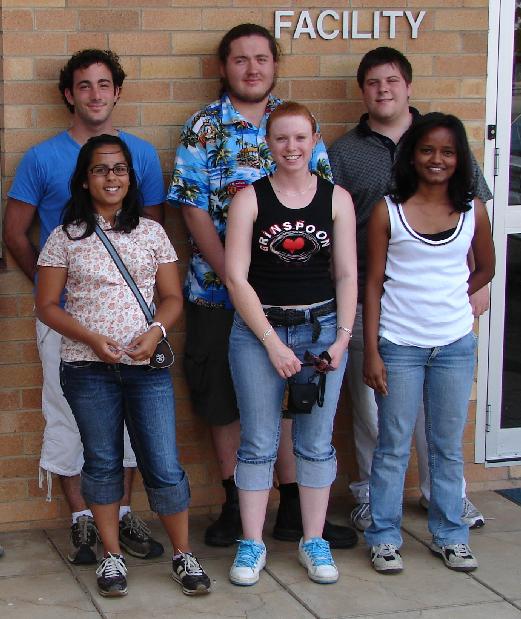 2006 Summer vacation scholars at Narrabri (from left to right), front: Sheila Kanani, Kate Randall, Dilini De Silva, back: Tony Whelan, James McGeachin, Chris Lustri; Photo: Michael Dahlem (click on image for larger version)
An important part of the Summer Vacation Program is the observing trip to Narrabri to use the Compact Array. Erik Muller's talks on radio astronomy and observing techniques prepared the students, and Erik also helped with observing support at Narrabri. The students split into two groups for the observing sessions and devised their own observing projects. The observing was scheduled over a 24-hour period, so they experienced the joys of all-night observing sessions.
The program concluded with a half-day symposium and lunch in February at Marsfield. The vacation students presented the results of their projects in a set of excellent presentations and confidently fielded questions from the audience.
Robert Hollow
ATNF Education Officer and Summer Vacation Program coordinator
(Robert.Hollow@csiro.au)
My experience as an international summer vacation scholar
My time here at the ATNF in Marsfield has honestly been ten of the best weeks of my life. I have learnt a lot about my project, about Australia and most importantly, about myself. I have gained skills that I will keep for life and made friends from the other side of the planet. The ATNF feels more like an extended family than a work place and everyone has done their best to make me feel right at home in sunny Sydney. Living in the Marsfield Lodge was a blessing; I would recommend it over the Hilton any day!
Work never felt like work! I often relished the fact that it was Monday morning, excited about the prospect of analysing new data that could lead to amazing discoveries. My project was loosely titled "Detecting Earth-mass planets around pulsars" and I spent time using codes that looked for periodicities in pulsar residuals.
One of the highlights of the scholarship was visiting, and in particular having observing time at, the Compact Array in Narrabri. Going through the processes that a real astronomer has to do on a regular basis was one of the biggest learning curves I encountered. The twelve hours of observing (from midnight to midday!) and the fourteen hours amassed on the train also did wonders for getting to know my fellow students!
I have done summer placements before, but none ever quite like this one. For one thing, when the Aussies say "summer" they mean "SUMMER"! Having the opportunity to travel to another country was fantastic, too. I had never been to Australia before and living in Sydney meant I felt like a true Sydney-sider; from scuba diving with sharks to camping out at the Opera House from 10.00 am on New Years Eve to secure a good view of the fireworks!
The success of this placement has cemented my passion for astrophysics, and radio-astronomy, and I am applying for PhDs as we speak. One of the PhDs I am applying for links directly to my project here — which proves how life-changing the scholarship has been!
It is imperative that I mention the driving force behind the success of this placement and that is unquestionably the people I have met. From the other students, to my supervisor, to every single person I have spoken to at the ATNF I always felt like my questions were good questions, never failed to find someone to help me when I was stuck and was always being asked to dinner by the staff here! Even on Christmas day, with my family on the other side of the planet, I didn't even think about feeling lonely because I was so well looked after.
Finally, I must talk about the only downside I encountered while being here. Two words: The Ashes. When Australia beat the UK with a thunderous 5 - 0 I had to hide under my desk for fear of being made to cross over to the dark side and support Australia. If there is one thing the ATNF love more than radio-astronomy, it's cricket!
My thanks go out to everyone at the ATNF, with special mentions to George Hobbs, Shaun Amy, Rob Hollow, Eric Muller, Vicki Drazenovic and Ella Kachwalla, and the other summer students for their support and friendship while I was here.
Sheila Kanani
ATNF summer vacation student 2006/2007
Workshop sessions at State Science Teacher conferences
The ATNF Education Officer, Rob Hollow, ran several workshop sessions at the Science Teacher Association of Victoria's Annual Conference at La Trobe University in November 2006 and the Science Teachers' Association of NSW Annual Conference at the University of NSW in December. Sessions covered using astronomy across the electromagnetic spectrum and how to effectively model and teach day and night and lunar phases in the classroom. The ATNF Director, Dr Brian Boyle, was an invited keynote speaker at the NSW conference. His talk covered his life and early influences in science, some of his moments in research and the future of astronomy in Australia. It was extremely well received and prompted many questions from the science teachers.
Robert Hollow
ATNF Education Officer and Summer Vacation Program coordinator
(Robert.Hollow@csiro.au)